Tuesday, January 19, 2016
∞
And just like that, a new year has come upon us. Without a doubt, 2015 was an eventful year for me. If you'd allow me to usher you through a roundup of my favourite moments..

Courtesy of Lush 99.5 and a dear friend, I got the privilege to experience

Laneway Festival

for the very first time in January. Elated I was when I learned my team's final year project got shortlisted for my school's graduation showcase and shortly after, before I know it, I was at my very own

convocation

; officially graduated with a diploma. My 21st wasn't all fancy, but nothing beats the joy of celebrating it with my one favourite person whom up till today, I still feel beyond blessed to have in my life. In late May, I was humbled to have been exclusively invited by the up-and-coming local label -

Eight Slate

, to their first ever pop-up concept store press event.

Did I look

nyonya

enough for you last Hari Raya? Well, I got a short stint being Scape's graphic designer for a month in August and I never imagine I'd experienced "

prom

" with this one. En route to

China

for a week thereafter. I made the most out of the frosty weather by

layering up

- coats, turtlenecks. The cojones of me trying to go out bare legged however got me in a nasty stomach flu situation. Bustling Beijing is a city of contrasts as they say, but there was something about its obscure charm and it never fail to always greet me with

gleaming luminescence

come dusk.

November came down to being involved in

Cartier

and

Charles & Keith

fashion shows. Then, came the season to haul out the turtlenecks and marinate in rich

caramels

. I admit December was truly a month to remember because I'll never forget that night when

we

got all soaked running in the rain from the crowd, and in dire need for shelter.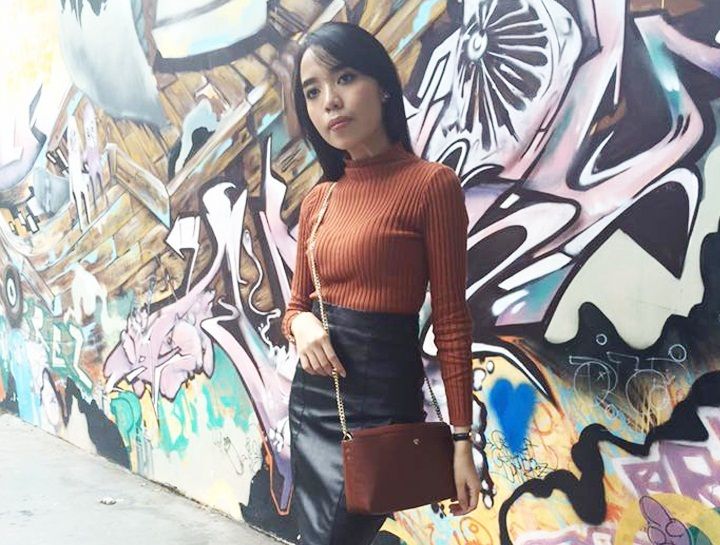 High Collar Ribbed Top c/o Soeurs.co | Leather Pencil Skirt c/o Topshop
Messenger Bag with Chain c/o Zara | Gold Plated Bracelet c/o Guess
Moccasins c/o Pedro
I have been finding myself gravitating toward more clean and minimalistic looks. I know I don't often broadcast every high neither do I try to hide every low but I promise to keep my social media and blog as raw and as real as possible. I'm still working on a fresh blog layout. In the meantime, what are your new year resolutions?

May 2016 be filled with love and warmth, and beyond for us all. x