Tuesday, October 27, 2009
∞
Thursday, 30 October 2009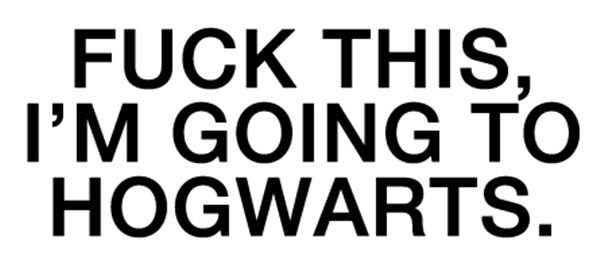 Oh, and R's a
SLOWPOKE !
Pffft. -.-
Wednesday, 27 October 2009
Not scared. I know you thought I was shaking fast in my own two shoes. But these soles could fight the ocean, weighs dirty laundry in world war II. And when I see you again, I won't be bitter. You're so far to blame. You brought up this change.
YOU'RE A COWARD, YOU IDIOT!
Well then, you failed to see that I am not just your shadow and some fucking illusion in which you claimed I was. I wish I had never ever ever ever known you, not even a tiny bit. I swear. And for that, I only managed to get some rest at three in the morning, with the company of mojo and er, boots.
Chuck that aside, I feel brigther than as ever today. Why so, you might ask. Well, good news, I'm promoted! *does hoola dance. Hah.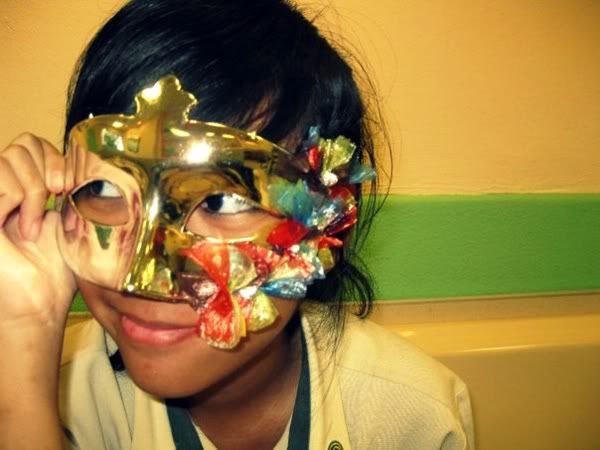 Anyway, meet Syaffy, the girl who eats her burger with curry sauce and fries with extra salt. *stares hard at Syaffy. Okay, gross. Hahahaha.


Oh and not forgetting, we had a trip to
The Singapore River
, for some mini amazing race. Fustrating part was, it was raining, then it was hot, raining then it was HOT again! pfft. -.-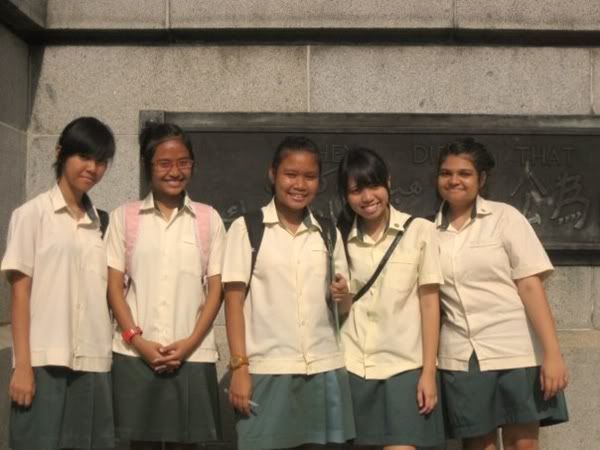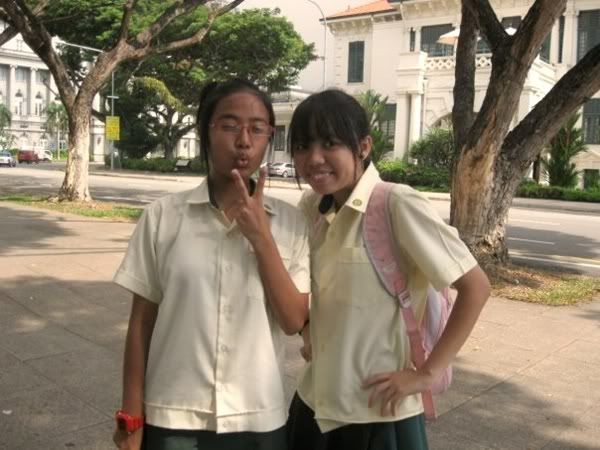 While roaming about with a can of drink in hand...



Hamidah:

Aisha, what will you do if I threw your Cookie into the Singapore River ?


Aisha:

I'll body-slam you! *grins wide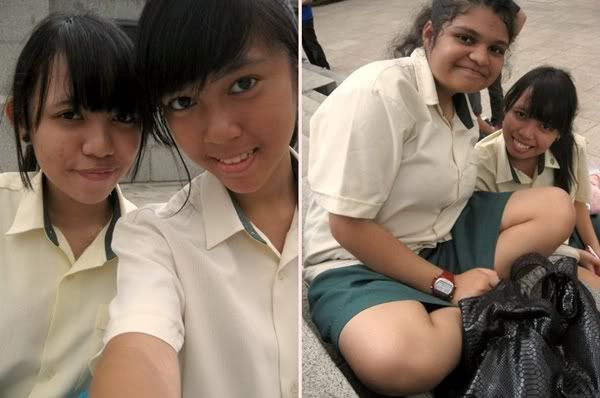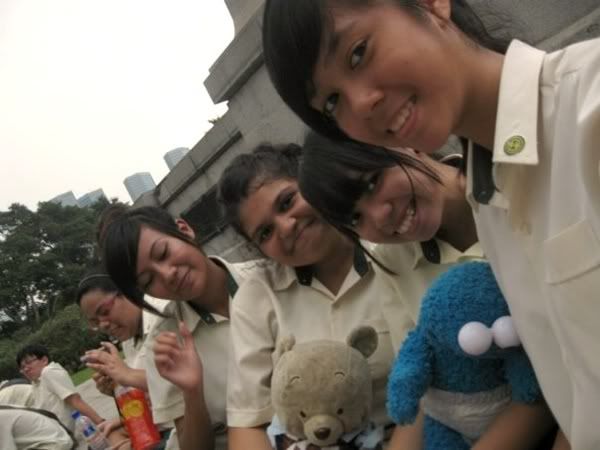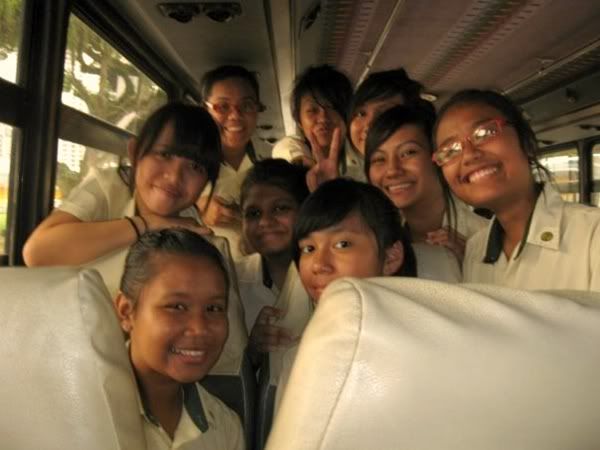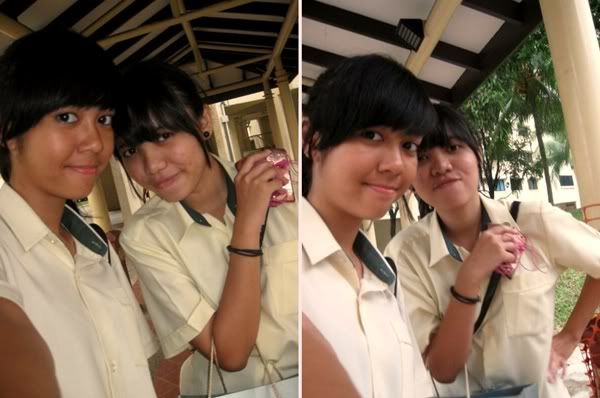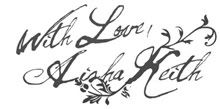 Monday, 26 October 2009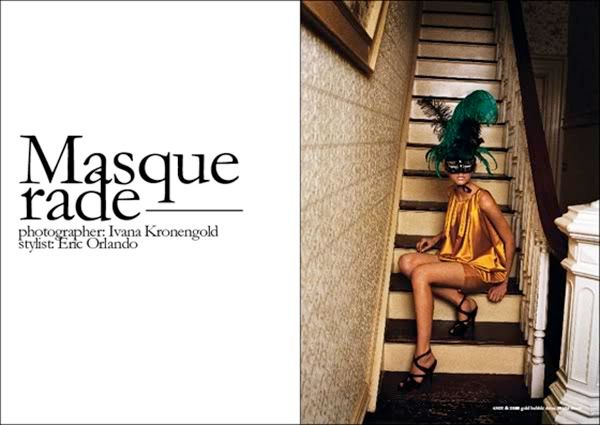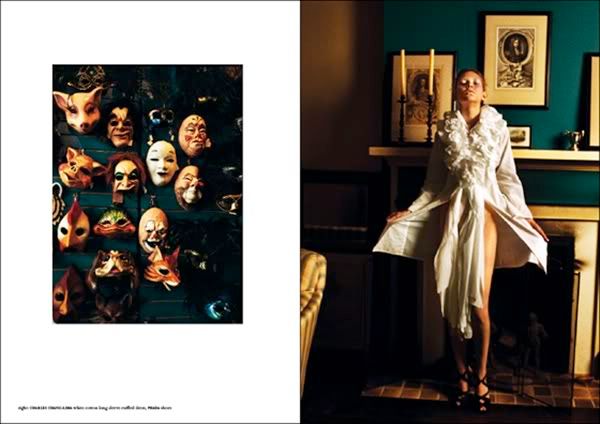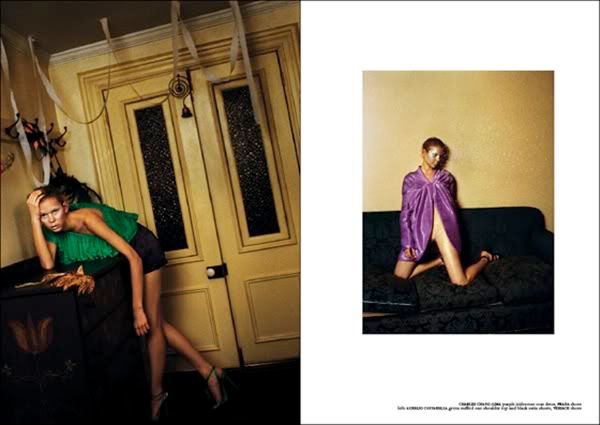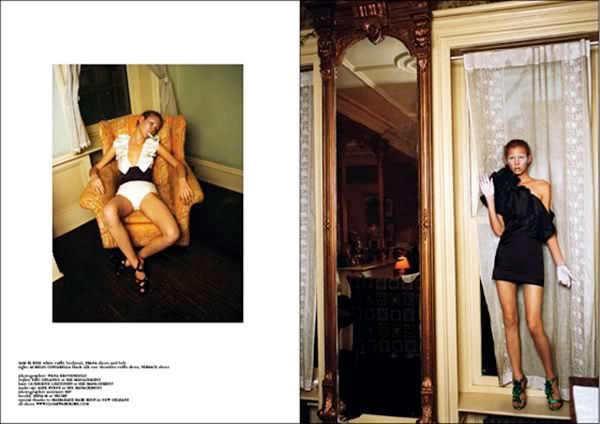 ( via
iknowhatyouwore
)
A draft idea on what my theme's like and what you'll be expecting. Rhythm and Sol, like a masquerade/festival concept. I've got soo much to do in just about two weeks. I'm really hoping it'll all work out fine. Past two choreography sessions were shitaaay but however though, it was still fun on the whole. Anyway, some kind soul saved me three slices of pepperoni pizza and I didn't really believe him initially til he handed them over to me after school. Haha. Oh boy, I love you. Get well soon.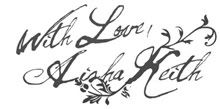 Wednesday, 21 October 2009
Have an early night my dear avid readers.
Goodnight and Sugar dreams.

Tuesday, 20 October 2009
What about little microphones? What if everyone swallowed them, and they played the sounds of our hearts through little speakers which could be in the pouches of our overalls? When you skateboarded down the street at night, you could hear everyone's heartbeat, and they could hear yours, sort of like sonar. One weird thing is, I wonder if everyone's hearts would start to beat at the same time, which I know about, but don't really want to know about. That would be so weird, except that the place in the hospital where babies are born would sound like crystal chandelier in a houseboat, because the babies wouldn't have had time to match up their heartbeats yet. And at the finish line at the end of the New York City Marathon, it would sound like war.

Monday, 19 October 2009
The sun's rays don't bother me for they cast down such a wonderful heat. And I don't wish to live my life like a story, always thinkin I could have been something. I've got my nails freshly coated in ze colour I loveee! Started off with shopping at Ion in the afternoon, followed by '500 days of Summer' the movie in the evening and coffee to then call it a day. Got myself a top and a purse from Dorothy Perkins as well as Sephora perfumes to go along with.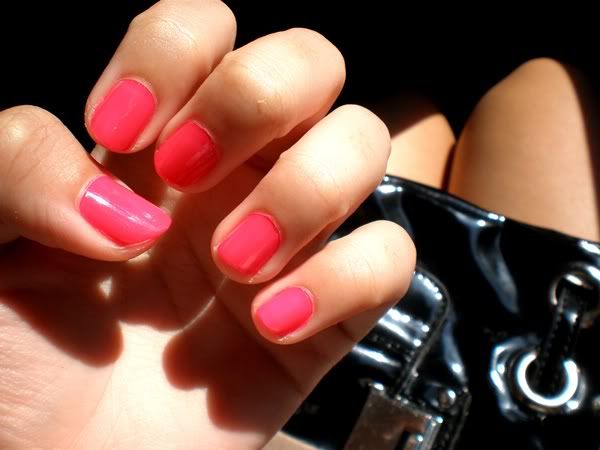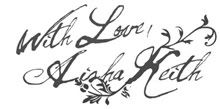 Sunday, 18 October 2009
Dear Boots,

I'm sorry ( times 17 ) for actually havin to forget your actual birthday. I swear you've no idea how guilty I felt. Hahaha. And so, here's a little somethin to make it up to you.. *hands over Boots my tub of leftover Ben n Jerry Chocolate Macadamia.
Happy Belated Birthday, Boots!

I love you more than BBQ, Bacon, Whiskey, Whiskey smoked bacon, Cheese, Mayo, Socks.

And also, well wishes on your future endeavours as well as your O's. Don't forget to get me my Teddy Geiger autograph and a 'Meet-n-Greet' session with him on my sixteenth birthday! Hehe.*hugs boots.

Love always,
your 'underaged' Dora.

I'm struggling to finish up my tub of Ben n Jerry Chocolate Macadamia.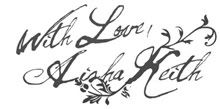 Thursday, 15 October 2009
Underwater, I wrote drowning. I used to be such a good good swimmer. I thought I was sinking. Thought of it all. My head was in the clouds. I thought I was a car crash. But, I got back right up. EOY's finally over and done with. Think I deserve a break. All I'll be prayin for, is good grades and happier days. Speaking of which, I was more as ever relief upon receiving the results for my Yamaha exams, from Raymond two weeks back. Decent grades. Not at all as good, just satisfactory. Still, I was lucky knowing they passed me even though my sight reading was well, bad. Haha.
I've got soo much to share. Too much in fact. Maybe I'll just elaborate on what actually happened two weeks and a week back.
On the 3rd of October...
What else ? Raya ! Everything didn't go as according to plan. Most were late and such. Dean taught me Japanese the whole time. Olin, he took every opportunity he had to distract and disturb me. Hah I played along. Aisyah fed me. Teehee. Era, played the role of my temporary hair stylist. And I suppose I catched up with Azfar quite alot, since we weren't really as close as when we were back in primary school. Saturday, was nonetheless

AWESOME

.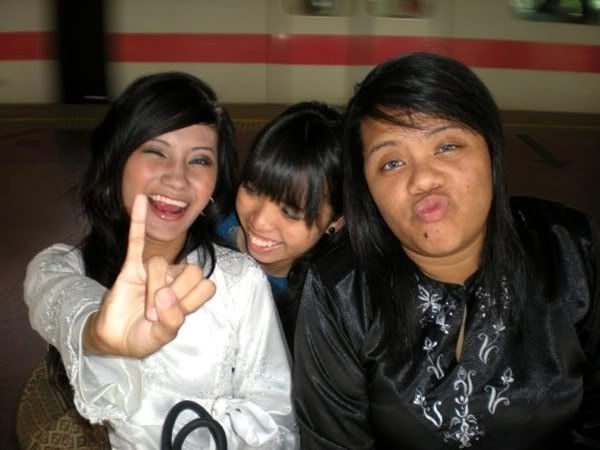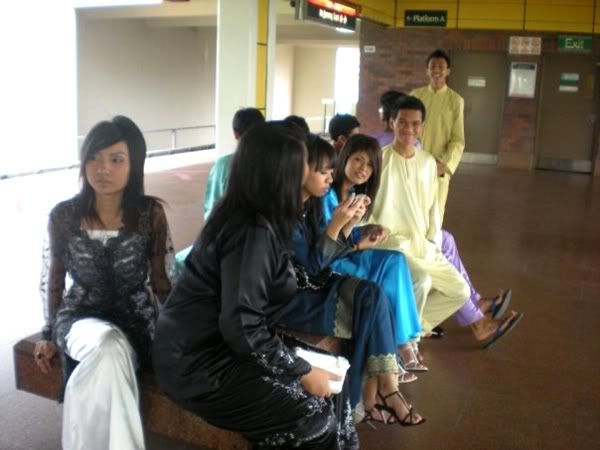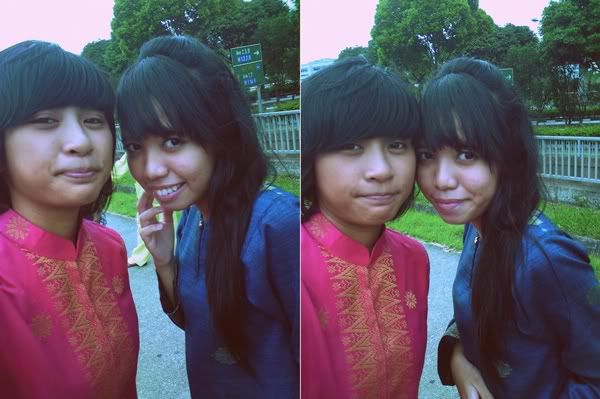 On the 26th of September...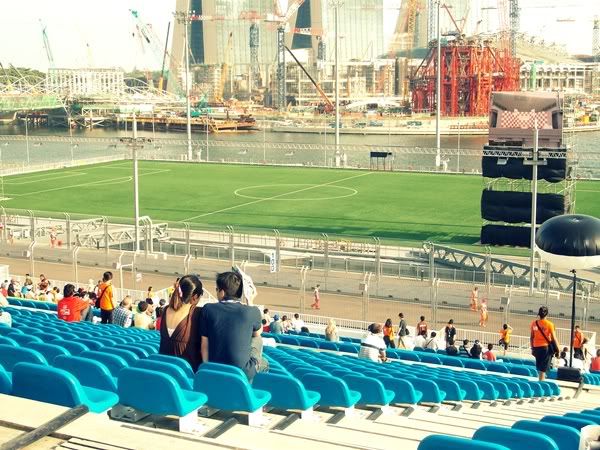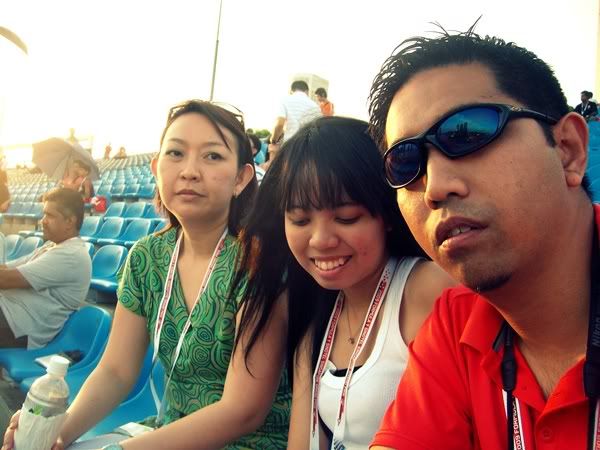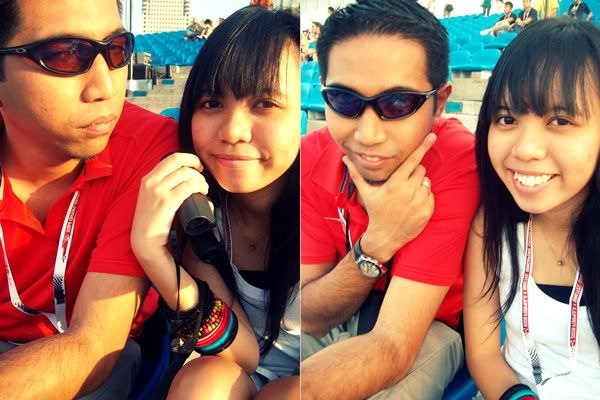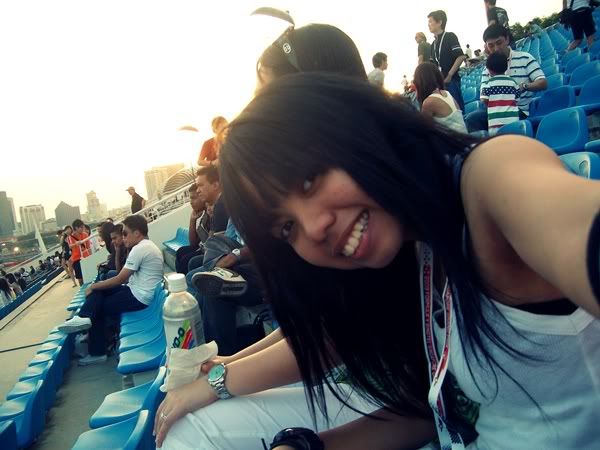 I feel like I'm pampered in some way or another with the fact that 'pap' treats both me and 'Maria' to a meal each, every week. First, it was sushi. Then, it was Secret Recipe. Just two days back, Gelare. I should count myself lucky, really. I loveee HTF! Goodnight.